Seeking drastic fixes raises the spectre of unintended consequences.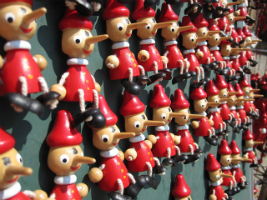 Fake news is big news. Problems range from state-sponsored disinformation to shock-jock conspiracy theorists and bedroom fantasists, all of them vying for attention in, ironically enough, the "mainstream media". It's an old problem, ("falsehood flies, and the truth comes limping after it", Jonathan Swift wrote in 1710) but, digitally weaponised, it has evolved into a more menacing threat; one with real implications for democratic principles.
Front and centre of the issue are the social media platforms1. Fighting on fronts including the use and misuse of data, fraud, security and child protection, they are "victims of their own success". And, as new media outlets, they are expected to take responsibility for the output that they enable, and amplify. The only problem with this is knowing what to do in practice. Social media embody the principles of free speech, but where does this end and censorship begin? The platforms have hired thousands of content moderators, and are hiring thousands more, but this approach can only go so far. And anyway the policies of the platforms themselves are inconsistent. The current legal case of the Sandy Hook parents against Alex Jones, who claimed that the school shooting massacre was faked, illustrates the point perfectly. His material was immediately removed from most social media sites, but remained for another month on Twitter, who initially maintained that he had violated none of their rules. (It has now been removed.) Jones' lawyers state that, it is "his constitutional right to invent stories and that no reasonable person would take Mr Jones' words as fact".
What everyone does seem to agree on is that existing, nationally-based regulation provides an insufficient basis (and legal right) to act, and that something must be done about it. With public and governmental pressure mounting, there is a desire to make a "bold step", perhaps involving legislation. This, the argument goes, is what is needed to demonstrate that the authorities have a "grip on the issue", that a solution to the problem is in the pipeline. Whilst understandable, this view is misguided. Such a reaction carries the serious risk of adverse consequences in, for example, whistleblowing, or the genuine investigative journalism on which democracies also depend. It might instead be better to recognise that fake news will continue to be the price paid for freedom of expression. Rather than a solution, a consistent approach is required, agreed through a collective effort from regulators, policymakers and industry. Such an effort would involve continual debate and the exchange of experiences and ideas based on actual practice. I think I might know an organisation that can help.
Andrea Millwood Hargrave
Director General, International Institute of Communications